Shopping Cart
Your Cart is Empty
There was an error with PayPal
Click here to try again
Thank you for your business!
You should be receiving an order confirmation from Paypal shortly.
Exit Shopping Cart
Pet care tips and stories from clients and animal lovers
As a pet owner myself I know the anxiety one feels when searching for the right fit for your pet(s). It can be a nerve wracking and overwhelming. As a small business we do our very best to make sure you feel at ease when you begin a relationship with us.
From the first point of contact we will outline the services we offer, our sitters who provide exceptional care, go over our expectations, address any questions you may have and if it feels like it will be a great fit for us all we will proceed to scheduling a meet and greet. This will give you, the client the opportunity to meet the sitter, introduce them to your pet(s), go over your instructions/expectations and answer any clarifying questions our sitter may have. All of this information will be added to our pet portal that you, the client will complete prior to the meet and greet. This will allow the sitter assigned to your care to review your pet care instructions prior to the meet and greet. 
The next step is care will begin. Go away knowing your pet(s) will be in great company with our amazing sitters. Our sitters will provide daily updates along with pictures for you to view. You will get to see your furry families faces while away and if you want you can also respond to these updates. 
Our number one goal is to make care as comfortable for your furry family members and you as well. We want you to come home to happy, healthy and relaxed pets. We want to build a long lasting relationship of trust. 
If you are searching for a trusted pet professional company who is insured and bonded and will provide outstanding services please reach out to us. We would be happy to help care for your furry family members. 
Nothing is more nerve-wracking then leaving your beloved animals to the care of someone else when you go out of town for vacation or business. You may be worried about their seperation anxiety, the trustworthiness of the care provider, or just about anything else. 
That's why finding the right animal caretaker is vital for the wellbeing of your pet and your peace of mind. There are many services that claim that they provide great quality because of their "brandname" or the "size of their company". You should be cautious of these providers as they often don't conduct proper background checks to ensure that they are hiring trustworthy people who know how to properly care for animals.
Here are some tips to follow when looking for in-home care and dog walking services:
1. Recommendations from friends, family, and neighbors
This is the best method for finding the right caretaker as you can get a first hand account of services that friends and relatives can share with you. If your friends and family share similar views on how an animal should receive care, then you can be sure they are going to know what you are looking for with a care provider. 
Ask your friends and familys for referals and to get more information on the company. Once you have found a legitimate care taking service, schedule a meet and greet with your caretakers to make sure they are the right fit for your animal and that you can build a bond of trust with the caretaker. This will usually lead to you finding your lifelong petsitter.
2. Recommendations from your veterinarian
Vets are some of the most connected members of the animal community, so they are a great resource for seeking out recommendations for petsitters. Usually they have somebody they like or have clients who offer services and who they trust. They want the best care for your animals, so they won't steer you wrong.
3. Use Facebook Community Groups
Facebook has made connecting in local communities easy as scrolling through your mobile phone. Locate local animal community groups who share your passion for animals. If you are seeking a petsitter ask ahead of time (1 month in advance at least) for people who offer petsitting services. You'll get recommendations for people as well as find people who offer pet sitting services. Remember to schedule a meet and greet to see if it is a good fit.
4. Consider specific animal needs
Some animals are more anxiety prone or have seperation anxiety, so plan accordingly for such situations. One great way to test how they will do with a pet sitter they may not be comfortable with is to schedule a meet and greet where you are not present. Just drive down the street and have the pet sitter interact with your animals while you are gone. This will acclimate the pet sitter with the animal and it will show you how they will act when you are gone.
5. Boarding options
There are many great boarding options and some that are not so great. Seek out boarding options that allow your animals to have opportunities to socialize. Also make sure they have constant access to a bathroom so they don't develop a UTI or something else. One more thing, be sure you are aware if kennel cough is going around in your area and avoid boarding if it is.
Don't count out discounted boarding as there are some great mom-and-pop boarding facilities who operate on a smaller scale, but provide excellent care.
Remember, your furry friend is a family member, so you want the best care possible. We offer outstanding pet sitting services in which we will meet your animal first and match them with a compatible personality for their visits and daily walks. Contact us to get more information!
Tell Us Your Story!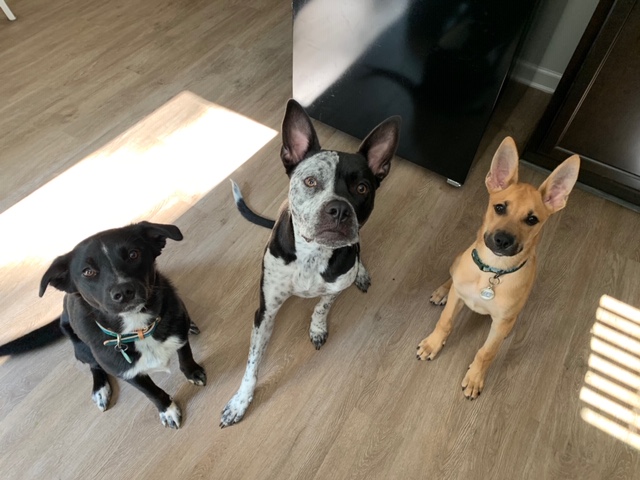 Do you remember the first time you got your puppy to sit? Or what about when your cat chased a mouse all around the house? As pet owners, we all have those moments of joy, love, and humor that are forever etched into our memories.
Here at Faithful Friends Pet Sitting LLC, we believe that there is more to our business than just providing animal care and that is telling the stories of our valued clients. That's why we want to hear about your memories with your beloved animal friends, experiences with pet sitters, and what your furry companion means to you. Those special moments we share with our pets are experiences that should be shared because you could inspire someone to rescue an animal so they can have their own stories to tell.
Submit your stories to [email protected] for review and you could potentially be featured in our blog!
/